Some of the reasons, when it becomes necessary to import OST into PST, are mentioned below.
1. The MS-Exchange server can unexpectedly crash due to power failure, malicious software, virus attacks, or any other reason. A severe crash could land you nowhere as you might not be able to connect to the MS Exchange Server. Such situations are very challenging and difficult to handle as in most of such cases they result in the repeated display of various error messages.
2. In the case of Exchange Server downtime or Exchange Server maintenance, you will not be able to access your mailbox. However, at times it becomes very necessary to have access to the mailbox items. All the user mailboxes, which include different mail items, are stored in an OST file, which works with synchronization with MS Exchange Server. To access the mail items, you need to export OST to PST and import it to the MS Outlook application.
3. By converting Outlook OST to PST file format, the data can be recovered even after accidental deletion of user mailboxes on the Exchange server.
4. Converting OST to PST helps in migrating the data from one place to another. This is very helpful in case the organization is shifting, or you want to move your important data on a different system.
5. While working with an MS Outlook client, you might come across the following error messages.
'Your offline folder file could not be
configured.\\ComputerName\FolderName\Outlook.ost.'
'The operation failed due to a registry or installation problem. Restart Outlook and try again. If the problem persists, please reinstall.'
Also, the following message might appear when you are working in a networked environment and the system having the OST file is not shared.
"ComputerName" is the computer name on which the installation of Microsoft Outlook has been done and "Folder Name" is the name of the folder that includes the offline file."
6. OST files are the offline storage files, which let you send/receive and delete emails even when it is not connected to Exchange Server. Once connected, it gets synchronized with the Exchange Server. That means all the changes that have been made to the OST file while working offline will be reflected in the Exchange Server. However, this OST file might get corrupt. This will lead to inaccessibility to user mail items. The OST file gets corrupt due to several reasons, as mentioned below.
Software related issues
Unexpected hardware failures
Abnormal termination
Application shutdown
Damage induced on the database
Server breakdown
Virus Attacks
Trojans Infections
Lack of Storage Space
Accidental deletion of the user account
How to Convert OST to PST?
You can see below all the manual procedure for converting OST files to PST file format
#1 Import and Export
#2 Drag and Drop
#3 Archive
Now follow the methods in detailed to Convert OST to PST file manually:
#1. First Method, this is known as Import and Export method.
Requirement:
The first thing is that connection with the Exchange Server and the next thing is Outlook must be installed on the local computer system.
Step 1: First you need to launch Microsoft Outlook.
Step 2: Click the File menu., then Select the "Import and Export"
Step 3: In the Import and Export Wizard, click the "Export to a file" option and then click Next button
Step 4: Now select Outlook Data File(.pst) and click Next to proceed further.
Step 5: Now select the mailbox folder to export from. You may also include the subfolders.
Step 6: Browse and select the target folder where you want to save the new PST file and click the Finish button.
#2. Second Method, you can call this Drag and Drop method.
Requirement:
In this method, you have to create a new PST file after that drag and drop all of your folders to it and save.
Step 1: Open Microsoft Outlook, then create a new PST file in the Outlook profile.
Step 2: After that select and drag all the mailbox folders you want to move into the PST file, created newly.
#3. Third Method, known as the Archive method.
Step 1: You need to open your Microsoft Outlook.
Step 2: After that please click on File and then Archive.
Step 3: Then choose your file/folder to archive and Browse the location to save the archived file.
Step 4: Then click on Finish.
4th method – Using ATS Software
By using ATS Software you can easily convert.OST File to.PST File without any hurdle it is specially designed for your convenience and cover all risk of losing your data
Some features of ATS Software
Recover Microsoft offline OST file into Outlook PST file.
Keep the data integrity with 100% accuracy.
Recover Deleted/ permanently mails Items from corrupted offline OST file
Complete Conversion of offline.OST mailbox database as, Emails, Attachments, and Contacts, Calendar, Journals, Notes, and all mailbox.
Easily and simple way to Fix Corrupt offline OST as well as Outlook PST File.
Easily restore all Properties such as To, Bcc, Cc, From, Attachment, Subject, and Date.
Display the preview of the recovered mailbox before the actual conversion along with attachment, contact.
Break the large OST file into several small PST file as per your necessity.
Recover with Convert Multiple offline OST files to PST file selected Batch Converter
Support cloud-based application Live Exchange Server & Office365.
Extract and collect data to several file formats as PST, HTML, vCal, MSG, EML, MBOX, vCard & EMLX.
Transfer encrypted and password protected files without any hassle.
Convert Single as well as Multiple OST Mails items to PST, EML, MSG, and HTML.
Backing the version of MS Outlook 2002, 2003, 2007, 2010, 2013, 2016 & 2019 also supportable.
Software Supported Any Size of Exchange OST File into PST file.
Instantly Restore OST file Items to Exchange Server versions- 2007, 2010, 2013, 2016 & 2019
Conclusion
The manual method is successful only when you have complete knowledge of it.OST and.PST File and know about its risk and data loss otherwise you can choose ATS Software it will help you in converting yours.OST File to.PST File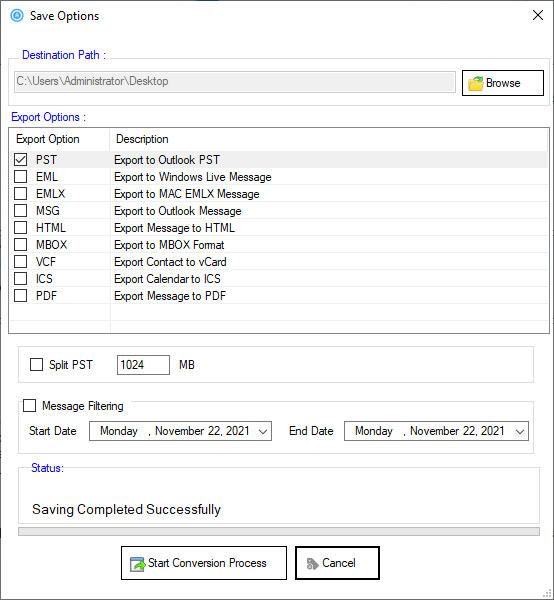 View the website: https://www.bulkecommerce.com/store/ats-ost-to-pst-converter-software-159.html
Free download: https://ats-ost-to-pst-converter-toolkit.en.softonic.com/